When:
February 12, 2020 – February 14, 2020
all-day
2020-02-12T00:00:00-06:00
2020-02-15T00:00:00-06:00
Where:
Omni Hotel Galleria
Four Riverway
Houston
TX 77056

Cost:
varies, see website
A Leader in International Trade Law
Global Trade Law Specialists. Successfully meeting the complex challenges of global trade compliance requires a smart strategy. For leading companies worldwide, that strategy is a partnership with Braumiller Law Group.
Why Braumiller Law Group?
We support companies involved in import/export with a unique set of skills: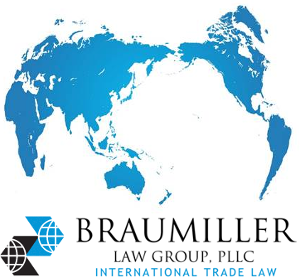 Braumiller Law Group, PLLC was instrumental in helping our in-house legal staff identify risk areas and work with our internal clients to develop solutions to complex and unusual customs compliance challenges. They were always responsive to our needs and deadlines, and very pleasant to work with.
Braumiller Law Group, PLLC provided our company with the in-depth analysis, expertise and guidance we needed to enhance our compliance program and also to submit our voluntary disclosure. With their attention to detail and knowledge of the export/ import regulations, we were able to complete our voluminous disclosure on time and were able to receive a favorable ruling without incurring any penalties.
Braumiller Law Group, PLLC has not only met the challenges we hired them to do, assist with C-TPAT, but it was a pleasure to work with their staff as well. Their knowledgeable staff proved to be professional and personable. I would highly recommend their services.
Our company has worked with Braumiller Law Group, PLLC for the past two years on various export issues. Their office is knowledgeable and also very responsive to our needs in the complex field of export compliance
Adrienne Braumiller, Partner & Founder of Braumiller Law Group, is ranked in both the USA and Global Chambers & Partners 2015-2020.
Chambers has been ranking the best lawyers since 1990, and covers 185 jurisdictions. No other organization has the strength-in-depth of Chambers editorial and research team when it comes to assessing the world's best lawyers.
Chambers ranks both lawyers and law firms based on the research of more than 170 full-time editors and researchers employed at their head office in London. They speak with both lawyers and clients during the year, conducting in-depth telephone interviews in order to draw their conclusion as to who they feel is qualified to be ranked.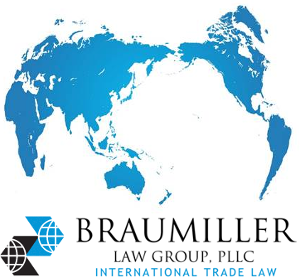 Your partner in International Trade Law
Working with our highly experienced ITAR attorneys and trade advisors will provide a distinct advantage with bottom-line impact.
We offer legal and consulting services in the following areas:
Subscribe to our Newsletter